Deutsche Bahn is already the most climate-friendly mobility company in Germany. But we want more. That's why we have committed to the ambitious climate protection goal: climate neutrality by 2040. To achieve this, we are utilizing an approach with three critical instruments: the shift to 100% renewable power, the end of diesel and the start of the heat transition.
Climate protection is a central building block of our Green Transformation. Deutsche Bahn's Green Transformation is a process that we are driving forward holistically in the four environmental fields of action of climate protection, nature conservation, resource protection and noise reduction. In addition, we are also facing up to our social responsibility, which affects the entire Group.
In 2022, we were able to reduce specific CO2 emissions for the entire DB Group by over 42 percent compared to 2006. And the share of renewable energies in the traction current mix was already around 65 percent in 2022.
Share of renewable power in the traction current mix
We owe these successes to the efforts and investments made in many different divisions and units throughout Deutsche Bahn. Because real success in climate protection can only be achieved if we think about and approach this task holistically.
Shift to 100% renewable power
Fully green traction current: One of the main building blocks on our path to climate neutrality is to use renewable power for all electricity consumed by Deutsche Bahn. That's why we are working to switch our traction current mix exclusively to electricity from renewable sources, and we aim to achieve this by 2038. Passengers who take our long-distance trains in Germany already travel using 100% green electricity. And all trains on the Hamburg S-Bahn network run on renewables.
Fully green stationary facilities: We will utilize 100% renewable power in all of our depots, office buildings and stations in Germany by 2025. Thirty-three of our stations, including the 15 largest stations such as Berlin, Munich and Cologne, have been using 100% renewable power since 2019.
Raising energy efficiency: Not only do we aim to increase our use of green power, we also want to use it more efficiently. That's why our new trains use a system that feeds power from braking maneuvers back into the overhead lines, and why we train locomotive drivers in energy-efficient driving.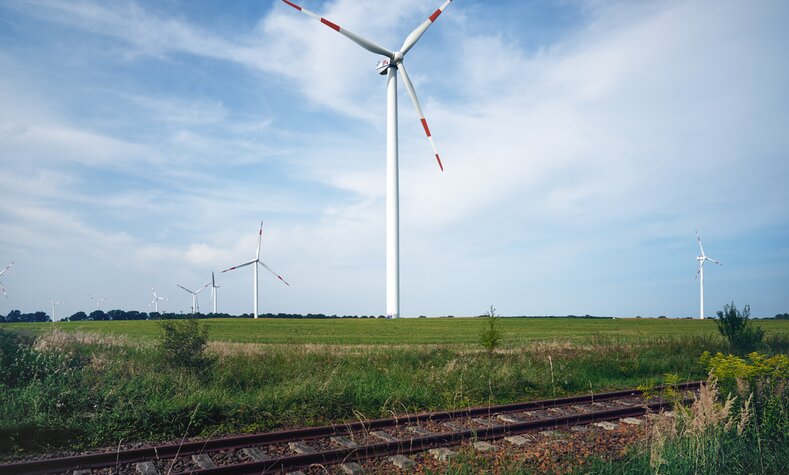 DB's wind farms in Germany and Europe generate clean energy.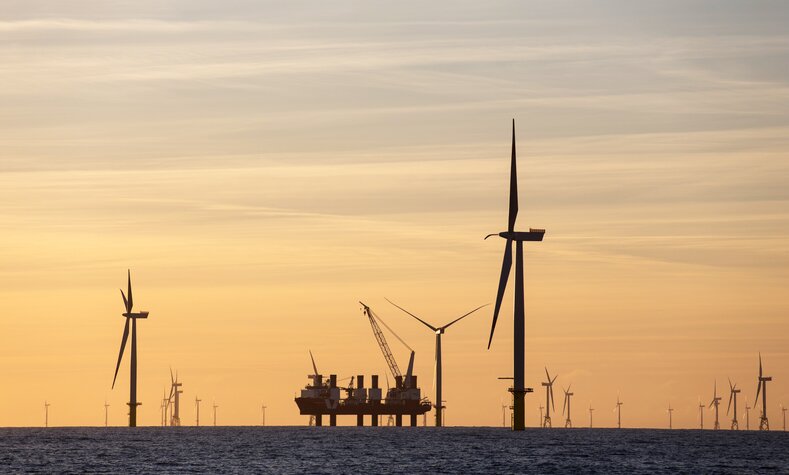 Starting 2024, the Amrumbank-West wind farm in the North Sea will make our traction current mix even greener.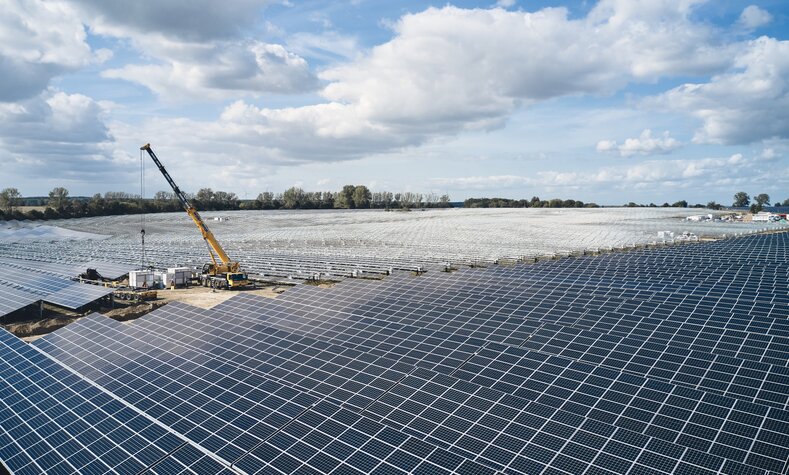 The solar park at Gaarz in Mecklenburg-Western Pomerania.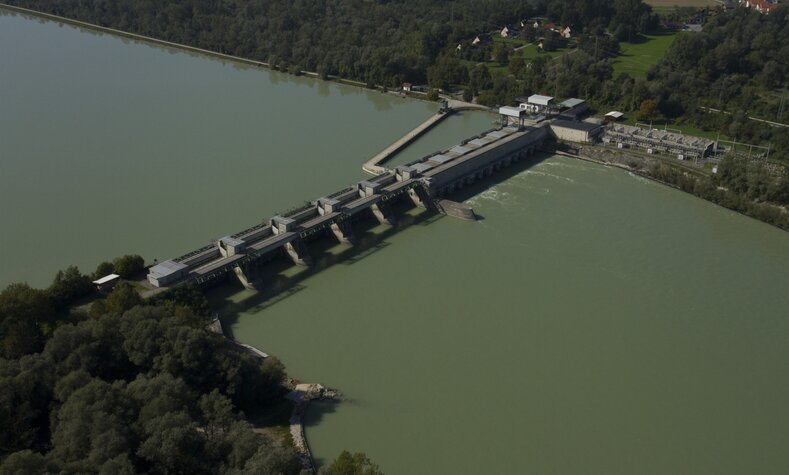 In 2023, we will start using more green power from the hydroelectric plant at Egglfing-Obernberg on the border between Bavaria and Austria.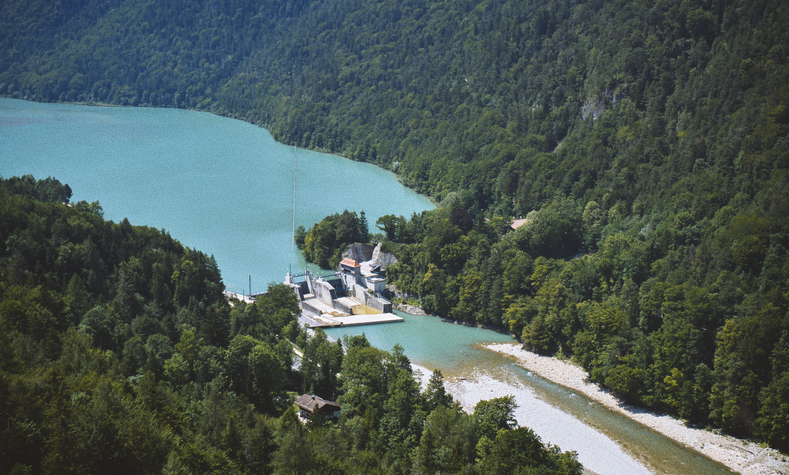 The dam at the Bad Reichenhall hydroelectric power station in Bavaria.
End of Diesel
As part of our mission to transform Deutsche Bahn into a climate neutral company, we plan to end all use of fossil fuels. For example, around 90% of our passenger and freight transport already runs on electricity, primarily on green electricity. In addition, we are adopting a technology-open approach with alternative drives and fuels.
Use of alternative fuels: With alternative fuels, diesel vehicles can continue to operate without the need for technical overhauls. This is a sustainable approach that conserves resources because we do not have to prematurely sideline fully functional trains and locomotives. Our alternative fuel efforts are focused on the biofuel hydrotreated vegetable oil (HVO). HVO is produced exclusively from biological residues and waste materials and produces around 90 percent fewer greenhouse gas emissions than conventional diesel.
Use of alternative drives: Alternative drives are low-emission alternatives to pure diesel drives. For example, we are currently testing an innovative hydrogen system consisting of a refueling station, train and maintenance infrastructure in partnership with Siemens Mobility. We're also testing battery trains and developing the associated infrastructure. Battery trains essentially have a rechargeable battery on board. On non-electrified lines, the train draws its energy from the charged battery, keeping it climate-friendly even when there is no overhead line.
Start of the heat transition
As part of our mission to transform Deutsche Bahn into a climate neutral company, we also want to stop using fossil fuels for heating.
Launching new mobility offerings
To make transport beyond rail climate-friendly from the first to the last mile, we are offering new mobility services that allow customers to combine multiple modes of transport.
Call a Bike
Thanks to our nationwide range of bicycle options, people in some 80 towns and cities throughout Germany get to enjoy climate-friendly mobility.
E-sharing services
We are the company behind Flinkster, one of Europe's leading eMobility fleets. Our nationwide carsharing network is represented in over 400 cities.
On-demand shuttle ioki
In some parts of Hamburg, our ioki shuttles take travelers from A to B around the clock with zero emissions – without a set timetable or set routes. We've managed to change mobility habits there. One in four passengers leaves his or her car at home and takes the shuttle, and over 70% of these passengers take the shuttle to major public transport stops.
We are building on our successes to date and will continue to drive forward climate protection in a holistic manner at Deutsche Bahn. We know that there is only one way to achieve climate targets in Germany and Europe: by shifting traffic from the roads to eco-friendly rail services on a massive scale.