Autonomous, electric-powered vehicles aren't just a futuristic notion for us. We are testing driverless electric buses at two locations in Germany – the town of Bad Birnbach in Bavaria and the city of Karlsruhe in Baden-Württemberg. Operating autonomously, these vehicles offer a convenient, climate-friendly service as they ferry their passengers from A to B. The shuttle buses even dispense with a set timetable: They are purely "on-demand", which means they arrive when you order them via your smartphone.
Autonomous minibuses in Karlsruhe
In Karlsruhe, two autonomous and electric shuttles buses offer a transportation service as part of the EVA Shuttle research project. DB's subsidiary ioki developed the platforms and interfaces for this undertaking. Using an intelligent algorithm, the system's app groups passengers who have similar routes as part of a process called "ridepooling". The shuttles' activities are also closely coordinated with regular mass transit services. This way, we use the ioki platform to intelligently integrate the autonomous on-demand shuttles with bus and rail transportation.
A green connection in Bavaria
We are also trialing driverless buses in the Bavarian town of Bad Birnbach. Since 2017, an autonomous bus service has been providing a daily connection between the train station and the central marketplace, which is about two kilometers away. The bus now has reinforcements in the form of two new autonomous e-shuttles that have been transporting passengers to their destinations on-demand since May 2022. The aim is to make it easier for local residents to access health-care facilities and stores for their everyday needs. The electric shuttles can be booked via the "Wohin Du Willst" app. Software designed by our DB subsidiary ioki calculates the best route for each trip requested. This allows several passengers to be driven together, making less traffic on the roads and protecting the environment. This on-demand service is free of charge and operates under the name HEAL (Hochautomatisiert-gesellschaftlich-nachfrageorientiert-ländlich), which means a highly automated, socially responsible, rural on-demand offer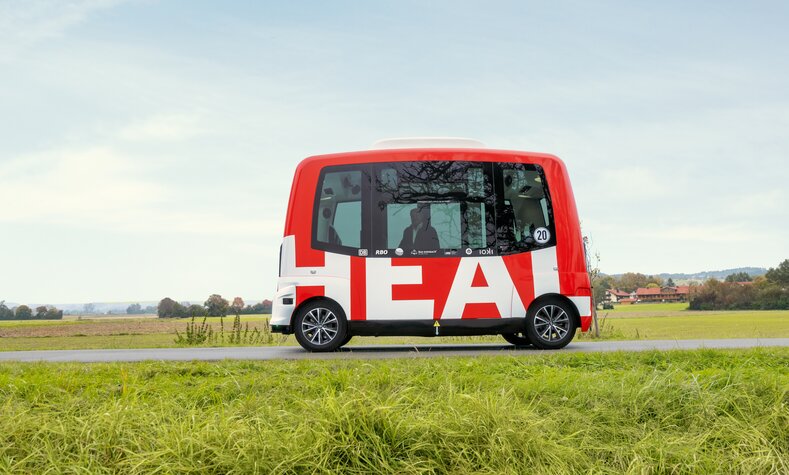 Green connection from the station to the city with DB´s autonomous bus.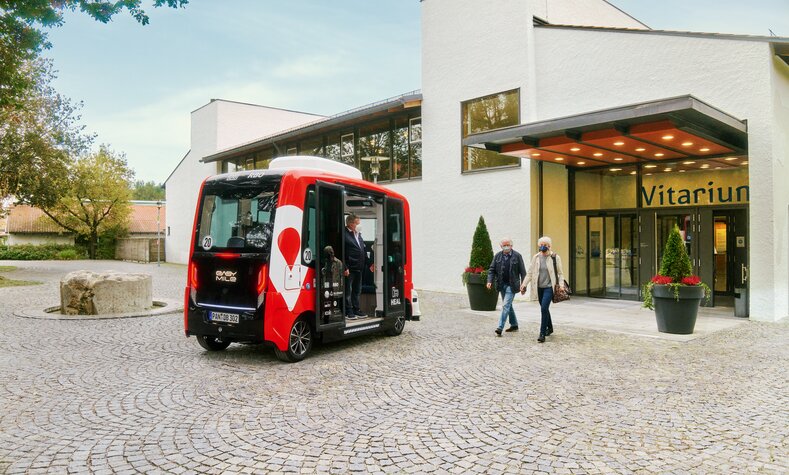 Deutsche Bahn is deploying two autonomous electric shuttles in Bad Birnbach.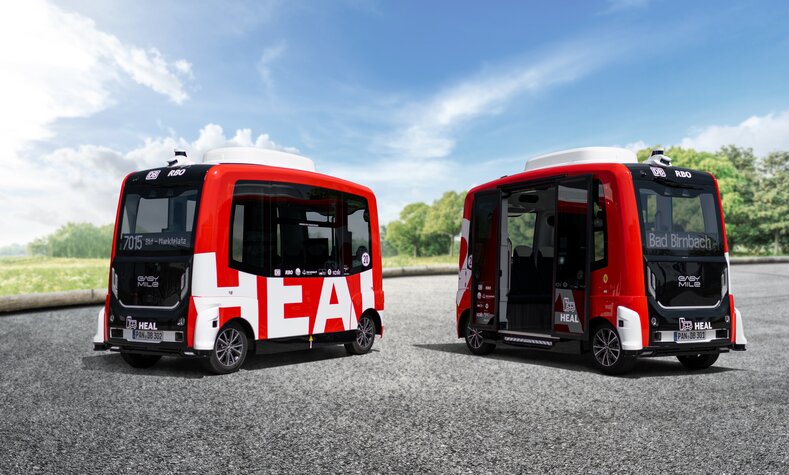 Two electric shuttles of the HEAL project in Bad Birnbach. HEAL stands for highly automated, socially responsible, rural on-demand offer.
The central role of safety
Ensuring passenger safety is the top priority with all of these autonomous buses. For example, the vehicles use sensors, object detection and self-geolocation so they always know where they should head. Innovative planning algorithms support the system's ability to make decisions when in transit. In addition, the specially trained "safety drivers" on board each bus can intervene in the event of an emergency. They also provide help when passengers with restricted mobility want to get on or off a vehicle.