At Deutsche Bahn, we will be climate neutral by 2040. So we're making climate protection a priority. And yet, there are places where we cannot use electricity to bring goods and people to their destinations. We are therefore developing green solutions that help with aspects such as refueling our diesel fleet on rail and road.
Biofuel in rail freight transport
There are still too few technical solutions to allow diesel engines to be dispensed with completely, particularly in rail freight transport, where large loads are transported. That's why we're choosing to provide our diesel fleet with alternative fuels, and so reduce our greenhouse gas emissions.
Our focus is on biofuels, such as hydrotreated vegetable oil (HVO). This is produced from biological residual and waste materials. As such these do not require dedicated agricultural land, and thus do not compete with food and feed production. It is also important to us that the biofuel we use is free of palm oil. In terms of the carbon footprint, greenhouse gases are reduced by around 85% to 90% compared to conventional diesel depending on raw material composition. Their combustion in the engine releases only the CO2 that was previously extracted from the atmosphere by the plants as they grew. The rest of the greenhouse gas emissions incurred are generated when the biofuel is manufactured and transported, so in the upstream chain.
At DB Cargo, we've tested the use of 100% HVO fuel in several shunting and main-line locomotives in freight transport. The results so far have been highly positive. The engines function flawlessly and the performance is as expected.
Greener regional transport
We are making regional transport even more climate-friendly for our customers too. In the Aulendorfer Kreuz and Donau-Ostalb regional network, DB Regio and the state of Baden-Württemberg are putting the first trains running on 100% HVO on the tracks. These diesel trains do not have to be specially converted for this. They fill up their tanks at our refueling facility in Aulendorf, which we have repurposed to supply biofuel rather than diesel, and which can be used by any rail company.
In another pilot project, our DB subsidiary Kurhessenbahn and the Nordhessischer VerkehrsVerbund (NVV) are using environmentally friendly HVO. To this end, DB Energie has expanded the offer at the refueling facility in Kassel, so that trains can also access biofuel here. In the future, we also want to use biofuel at other locations throughout Germany. In this way, we are making regional and local trains, which are already environmentally friendly, even greener and more attractive for our passengers.
Eco-friendly Sylt Shuttle
Biofuel is also used in some of DB's long distance transport operations. Both the Sylt Shuttle car trains and the Sylt Shuttle Plus trains are fueled with 100% HVO. As a result, we avoid emitting around 7,500 metric tons of CO2 every year on the rail route between Westerland and Niebüll.
The use of biofuel on the trains between Westerland and Niebüll is an important step in phasing out diesel. By 2025, we will have switched the few remaining long distance trains currently still running on diesel to biofuel. These operate on the non-electrified lines between Erfurt-Gera and Immenstadt-Oberstdorf. Once the switch is completed, all passengers on long distance connections in Germany will travel diesel-free.
Fossil-free on the road
Biofuel is a climate-friendly alternative to diesel for road vehicles, too. DB Schenker, for example, uses the biofuel for its European fleet. The first trucks that refuel with 100% HVO are already on the road for DB Schenker in Sweden with a This is green. label.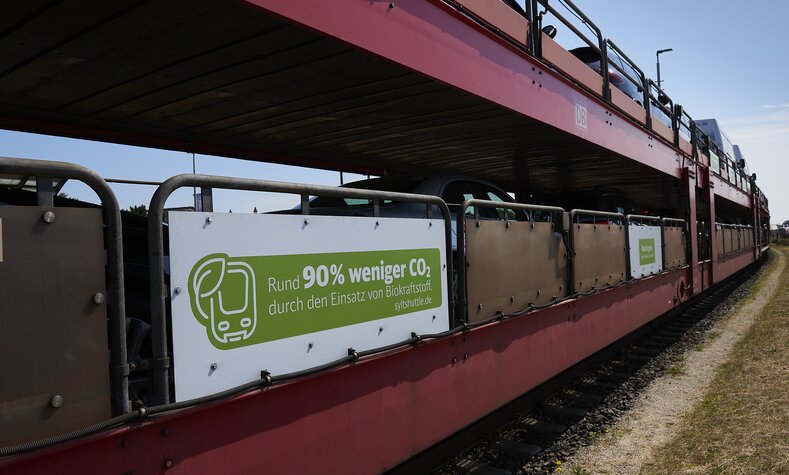 The biofuel is produced from biological residual and waste materials and is free of palm oil.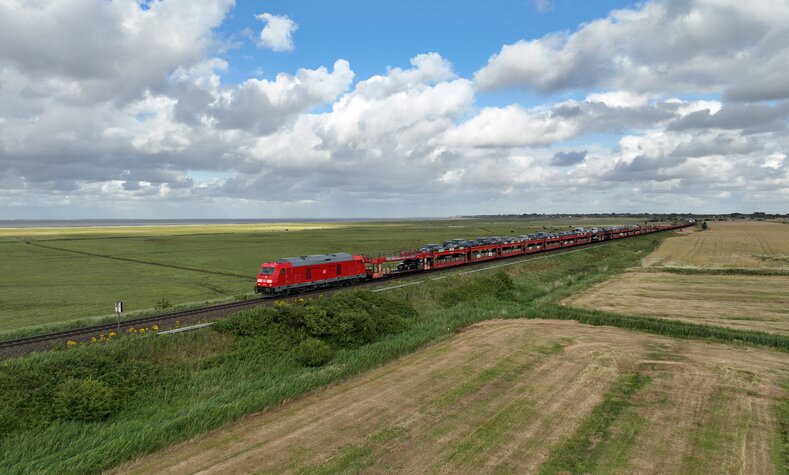 With the Sylt Shuttle our customers travel to the island in a climate-friendly way.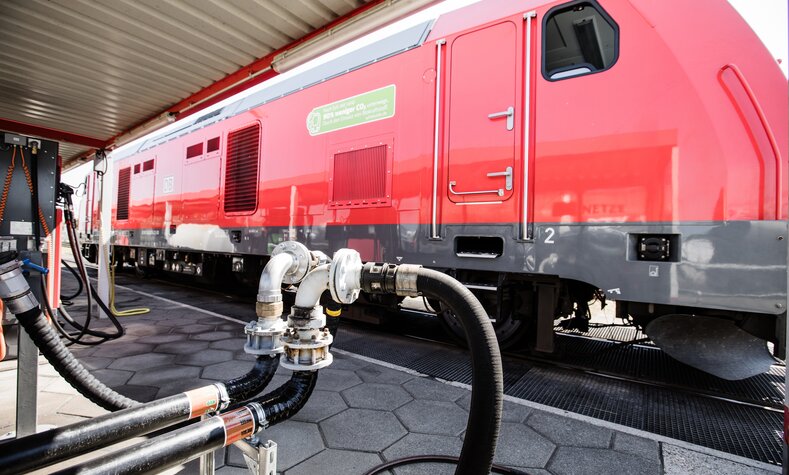 The vehicles are refueled at DB's HVO rail refueling station at the Sylt Shuttle Terminal in Westerland.